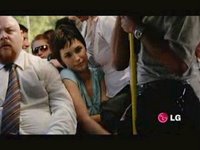 Touch on a public Bus


Walking through dust and humidity

In Trinidad it is said that girls with powder on their chests are trying to say to the viewer that they have just had a bath. The latest product of seduction in America are washing machines, and this washing machine advertisement has managed to make me look at their meaning about hygiene. An attractive woman walks down what looks like a busy street in New York. She walks by dusty pavements and takes a crowded bus. Then she goes home and takes off the dress and puts it in the dryer.



Refreshed clothing


Ready to wear

The name of the dryer is shown and then we see her several minutes later, still in the slip, putting on the dress, ready to go out for the evening. This advertisement is supposed to make one feel that the product can bring back clothes to a first wearing newness, but the fact that our protagonist has chosen to NOT take a shower is very off putting, leading me to conclude that the audience for this product are not West Indians who pride themselves on cleanliness. But even worse, it fits into a terrible stereotype about Caucasian people, that they dislike bathing.



Prim and unwashed - LG Ad Brand Buzz (LG refresh)

Now come on, this is advertising at its worst while trying to show something at its best. it is one of those ticklers about perception. for example there is a local advertisement for the lottery with the football theme. Some men are watching the game and a series of marks are considered for betting. It is all meant in good fun, and the piece can be funny, but at the end when one of the AfroTrinbagonian men goes to collect his winnings at the betting shop, he says, 'Still hungry but ah can buy a big screen TV now." This leads into another bad stereotype about black people and money. In a way one can say that every advertisement can be dissected and pulled apart for such subtle and not so subtle bias. It is one of the risks of showing things for mass consumption in short time frames. I would conclude that in the effort to sell the product well, one must always consider every perspective. – Adele

thebookmann Trinidad LG TV Ad Brand Buzz (LG refresh) refresh) Adele Todd thebookmann